Ok this recipe is easy..esp since i never use measurements.. its however you want it! :)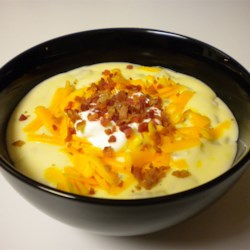 This is not my soup.. i just wanted a picture..
ingredients!
4-6 potatoes
3tbsp sour cream
Milk as needed
2tbsp ranch dressing
ALOT OF CHEESE :) (colby/monteray jack)
3 slices bacon w/ bacon grease
2-3 green onion
Salt and pepper to taste
Butter..
Flour..
Peel & chop potatoes..
Boil until just ready to mash..drain..
Set aside..
meanwhile fry bacon.. we like it just a little crispy around the edges & soft in the middle.. DO NOT DRAIN BACON GREASE!!..set aside
Crumble bacon into pieces..
Finely chop the green onion..add couple spoonfulls of butter with bacon bits & onions in a frying pan...
Saute a couple minutes..
add to potatoes
Squeeze in some ranch dressing..2-3tbsps..
add about 2-3 tbsp sour cream...
Another couple spoonfulls of butter...
Then pour about 2-4 cups of milk over potatoes.. the more milk you add the more soup you will have.. use a potato masher..and mash the potatoes some..
Ones you get milk.. you want the soup to be thick.. so add flour as needed!.. once its almost done.. add lots and lots of cheese until melted!
We love this soup with buttered crackers! Just dip & go!.. or cornbread! :)